Here we go… The final update on what I've been calling "The PayPal Issue".
I am officially away from PayPal as my payment processor. Not because my account was shut down. I still (at this time) have a PayPal account, but I'm choosing to walk away from them before they choose to walk away from ME!
Side Note: If you've missed what's going on see my Facebook posts on the issues at…
Post 1: https://www.facebook.com/permalink.php?story_fbid=2277548948935058&id=100000399258867
Post 2: https://www.facebook.com/permalink.php?story_fbid=2282629025093717&id=100000399258867
Post 3: https://www.facebook.com/permalink.php?story_fbid=2376849392338346&id=100000399258867
I have a blog post where I sum these up at http://liztomey.com/blog/saying-goodbye-to-paypal
Okay on to the goods here…
I started this journey in April of 2019 and it's now the middle of August 2019. Almost 4 months of research, reaching out to people, back and forths with merchant accounts, and the list goes on and on.
I kept hitting "walls" and I didn't stop until I got through them. That's how you have to be with EVERYTHING when it comes to creating an online business. You do everything you can to get through anything that tries to stop you from reaching your goals.
That's not what this is about though so I'll save my "Tony Robbins speech" for another day. 😉
This post is to help those of you who are looking to get away from PayPal and who are using JV Zoo and/or WarriorPlus as a vendor or as an affiliate.
First off, you've got to look at this from two different sides.
If you're an affiliate and you want to get away from PayPal it's pretty simple. A few settings and you're done.
If you're a vendor though there are a few things you need to do.
I want to talk about these things separately in this post to help your brain keep them separate. If not you'll get super confused. I'm both an affiliate and a vendor and my biggest problem I had with understanding all of this was keeping those two things separate.
So let's start with…
Getting Away From PayPal As An Affiliate Marketer On JVZoo and/or WarriorPlus
This was a WAY easier process for me compared to what I thought it would be.
With JVZoo you need to make sure you have a JV Zoo Pay account setup properly. When you want to promote a product make sure that the vendor is using JV Zoo Pay to pay you your commissions. This will be listed on the Affiliate Details Page where you get your affiliate link.
When you promote the product and make sales all commissions instantly go to your JV Zoo Pay account. You can then withdraw your commissions into your bank account or Payoneer account. You can also withdraw into your PayPal account, but the whole point of this is to get AWAY from PayPal. 🙂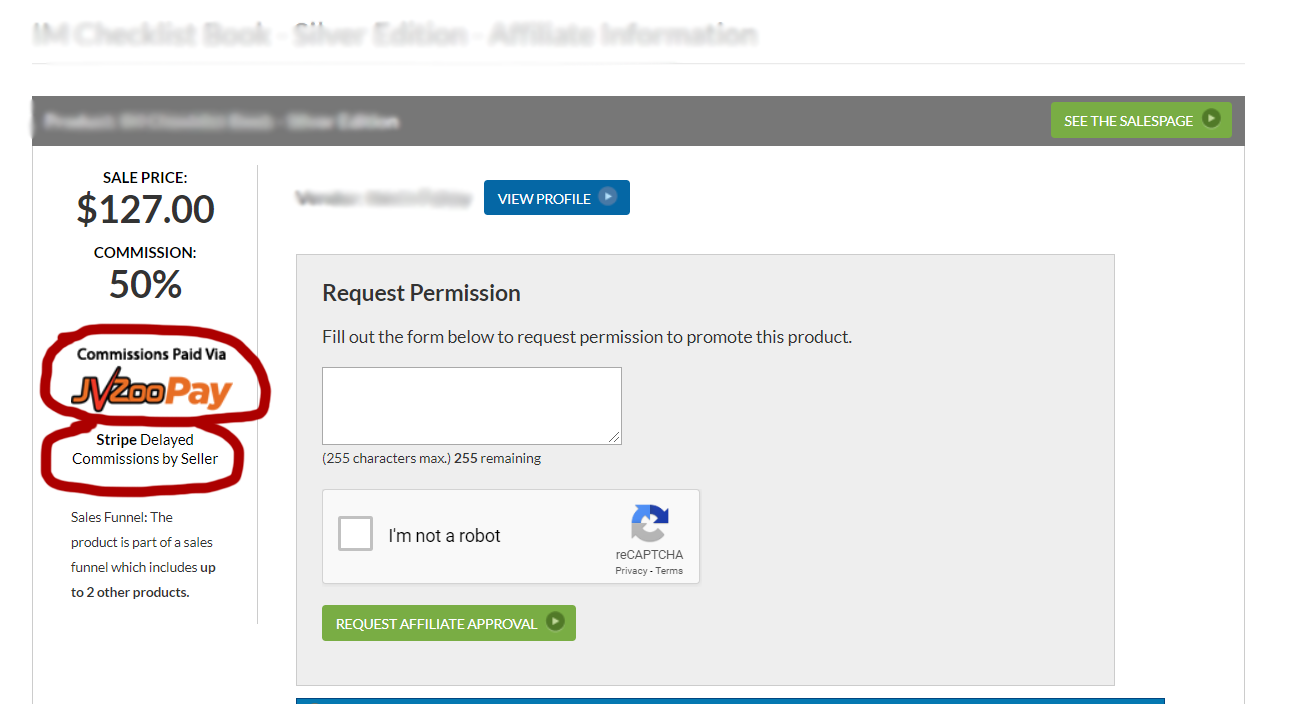 I have my JV Zoo Pay account setup so that when I have $500 in commissions they are automatically deposited into my bank account.
A little note here… Some vendors use Stripe to process their payments on JV Zoo. They have to pay you manually. This will be noted on the Affiliate Details Page too. (See the second circle above.) I ONLY promote vendors I personally know if they are going this route. I don't like having to figure out who owes me money with affiliate programs. That's why my main rule with promoting something on JV Zoo is that if they aren't paying via JV Zoo Pay I'm not promoting their product.
Here's the short of it… The only way you can get your commissions into your JV Zoo Pay account is if the vendor processes payments via PayPal or Bluesnap (which is a merchant account). You then withdraw your commissions in your chosen way. To your bank account or Payoneer account.
Now with Warrior Plus it's simply going in and changing a setting in your account so everything is sent to your Warrior Plus Wallet. Then you can withdraw into your bank account. Again you can also withdraw into your PayPal account, but uh… We're getting away from PayPal here. 🙂
The setting for this is hard to find…
Upper right hand corner from the drop down menu select My Account, then Merchant Accounts, then go to Settings and turn ON Force Wallet (Affiliate/Partner).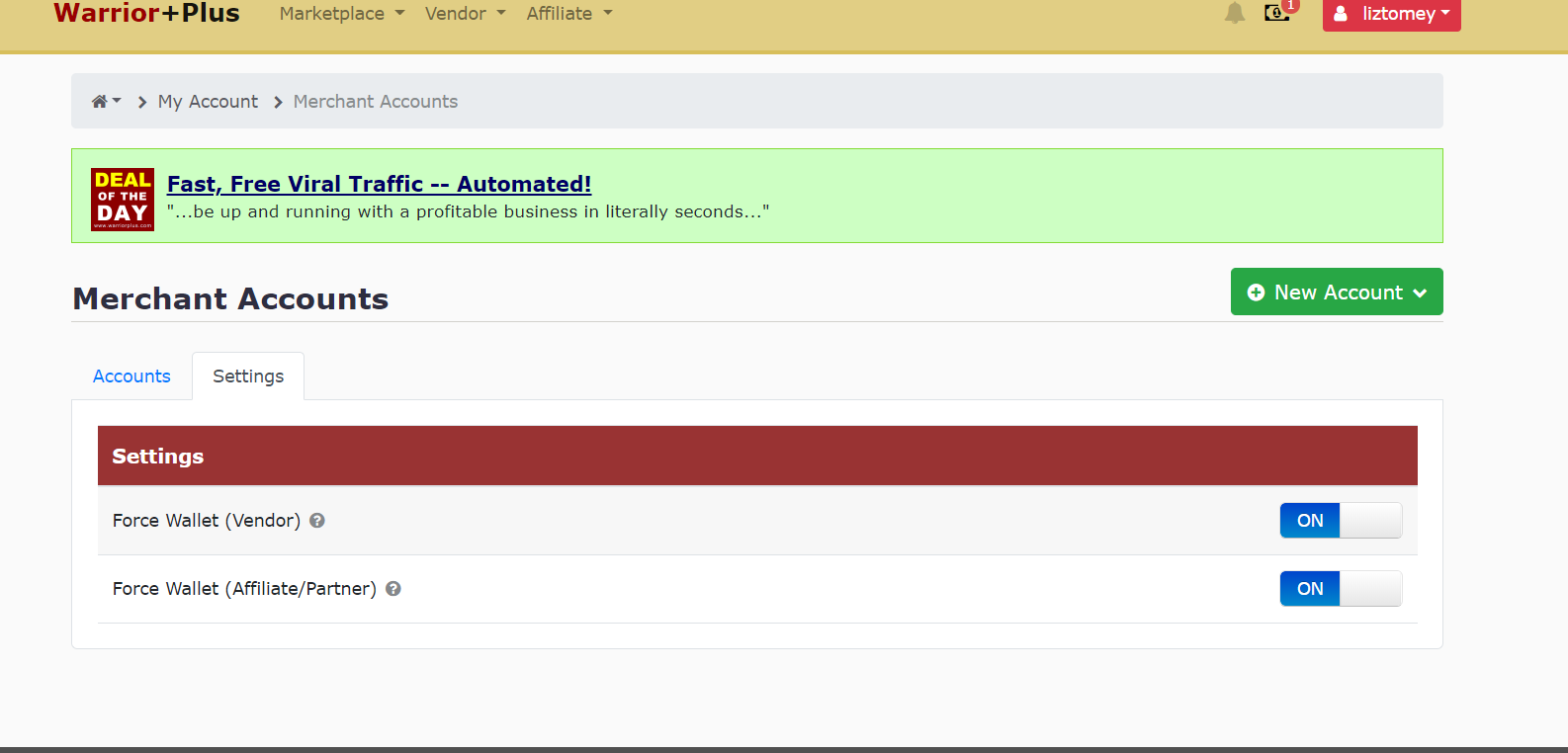 I can withdraw my available affiliate commissions from my Warrior Plus Wallet into my bank account.
So that has me totally away from PayPal being an affiliate on Warrior Plus and JV Zoo.
Now for those of you who are vendors. Hang on to your hats! 🙂
Getting Away From PayPal As A Vendor On JVZoo and/or WarriorPlus
Again, we will start with JV Zoo.
Your options with JV Zoo are to get a merchant account with Bluesnap or Stripe in order to get away from PayPal.
Stripe doesn't work with JV Zoo Pay though so you have to manually pay your affiliates. I'm not willing to do that. I want to automatically pay my affiliates.
So, I am using Bluesnap so commissions are automatically put into the JV Zoo Pay accounts of my affiliates. I really wish I could use Stripe over here. I DO like it better than Bluesnap. I get my money quicker and the reporting is better.
When the customer buys via a JVZoo button, Bluesnap and JVZoo work together (with some unicorn magic or technology or whatever) and put the affiliate's commission into THEIR JVZoo Pay account, gives JVZoo their fees, and leaves my profits in my Bluesnap account.
This is all done automatically…
Note: See JVZoo's documentation on selling on their platform at https://jvzoo.zendesk.com/hc/en-us/categories/200334067-Sellers
No money comes into my PayPal account. It's all processed by Bluesnap and they automatically deposit my profits into my bank account.
Once you have your Bluesnap account setup and your JV Zoo Pay account then when you setup a product you simply select Bluesnap to process your payments and to pay affiliates with JV Zoo Pay.
So make sure that you get the accounts setup before setting up your product. The initial account setups is what takes the most time. Once you have them setup you just select what you want to use to process payments when you create products moving forward.
On the vendor side of Warrior Plus…
They only allow you to process payments through PayPal or Stripe. Bluesnap isn't an option over there.
Over there I'm processing payments with Stripe and affiliate commissions are paid into the affiliates Warrior Plus Wallet. Then they can withdraw in their chosen way.
Like with JV Zoo you have to get your accounts setup. I had to setup my Stripe account in there, and then when I setup the product I have to select that I'm processing via Stripe.
So when a customer purchases through a Warrior Plus button Stripe and Warrior Plus work together (again with unicorn magic I think) and aput the affiliate's commission into THEIR Warrior Plus Wallet, gives Warrior Plus their fees, and leaves my profits in my Stripe account.
Stripe deposits my profits into my bank account daily.
And again… This is all done automatically.
Note: See Warrior Plus's documentation on selling on their platform at https://help.warriorplus.com/en/collections/170745-selling-on-warriorplus
The big take away here with BOTH of these is that you have to get your "processing" accounts setup first, and then when you setup your product to get your buy buttons is when you select what you use to process payments and pay affiliate commissions.
The Wrap Up
I have now done FOUR launches using BOTH JVZoo and WarriorPlus and many have asked me which one I prefer.
Warrior Plus or JVZoo?
I've thought long and hard about what I would say here, and even if I would even say anything at all.
Why?
Well it goes back to the old saying…
"You don't poo where you eat."
I no longer "eat" at PayPal so I'll "poo" all over them. I wont however speak ill of either JV Zoo or Warrior Plus because I "eat" at both of these places. Both have their pros and cons.
Let me say that one more time…
Both. Have. Their. Pros. And. Cons.
Like I hate how "clunky" and confusing WarriorPlus can be.
I also hate that I can't easily tell who pays how and what without some digging on JV Zoo.
I do have a favorite and it's JVZoo.
There are many reasons and some of those reasons I wont discuss. 😉
Both have their pros/cons (as I said), but what makes me say JVZoo is hands down the best is…
1. I personally know the CEO of JVZoo. Laura Cassleman!
NEVER has a CEO ever reached out to me personally to help me with my business. Laura cares about her JVZoo affiliates and it shows. Not only did she go to battle for me with issues with merchant accounts, but has done so for others. Laura is a shining example of what a true CEO is. I can't thank her enough for her help through all of this.
2. The Support team is phenomenal.
I also know several people from the support team personally. 🙂
JVZoo has a support desk and a Facebook group. I think I used the support desk a very long time ago, but I always use the Facebook group and have an answer within 24 hours to my endless questions. Usually in MOMENTS! That's important when you're trying to get a product launched. I need answers and solutions NOW and I get them.
3. It's easier to use.
As a vendor the JV Zoo system is easier to use in my opinion.
Once you have your merchant account and you've gone through all the settings to get it hooked up, using JVZoo to get your funnel setup is easier to use than Warrior Plus. Maybe that's because I've used them for so many years and just get their system or maybe it's because it is in fact just easier to use. *shrugs*
What I do like about Warrior Plus BETTER though is that I can use Stripe over there and it automatically pays my affiliates over there into their wallets. I like Stripe better than Bluesnap. From the ease of using it to the reports to them paying out faster than Bluesnap. I just like Stripe better.
So there you go… That's how I've gotten away from using PayPal as an affiliate and a vendor on both JVZoo and WarriorPlus.
It's been a heck of a journey, but I'm really liking running my business without the fear of losing my PayPal account.
Putting all your eggs in one basket is a HORRIBLE idea. I should have NEVER had only one way to accept payments, and I'll never do that again.
Click To Tweet
I currently have 4 ways to take payments. PayPal (I refuse to use that one though) , Bluesnap, Stripe, and Cash App.
Cash App? What, Liz?
I'll be talking about that one in the future. 😉
My next one I'm looking to use is ClickBank, but that probably wont happen until early 2020, so stay tuned.
Until then… Thoughts? Opinions? Questions? Feedback? Let me know in the comments below…