So JVZoo has had this little "hack" for a while, but I wanted to show you how to use it because it allows you to put buyers of products you're an affiliate for on your own list.
Example: I'm going to be promoting a product for David Eisner. When people buy through my affiliate link I'd like to have them put on a list within my autoresponder account. I'd create a list something like deisner4xleadquality so that I knew what the list was.
Once those people are on that list I can send them bonuses for buying, related products, and whatever else I wanted.
This is a HUE benefit for people who are doing affiliate marketing without a list because then BUYERS get added to your list seamlessly!
And it's a HUGE benefit for those who already have a list because you can create BUYERS list that are super targeted.
All you have to do is when you find a product you want to promote in JVZoo, apply to get approval and get your link. On that same screen is a place where you can put what list you want people who buy through your link to be added to.
Here's an image to show you what I'm talking about…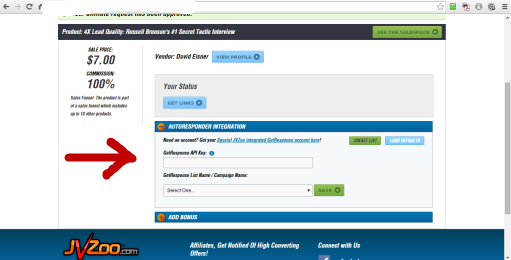 I don't know about you, but I'll be using this "hack" a lot to create seriously targeted list of my buyers. 🙂
Hint: You could even create "category" type lists. For example anyone who buys a product through your link on affiliate marketing could go on your affiliate marketing buyers list. Or anyone who buys a product through your link on traffic could go on a traffic buyers list.
Okay… A little advanced tactics, but wanted to share to help you guys out!
Liz