And we're back in action… Over the last few weeks, I did a launch and then ran into some huge technical issues. I'm still battling those, but I've got a handle on it and now have time to get back to the website traffic tutorials.
I have created the first one where I went back and started with the barebone basics. Even if you think you KNOW the basics, you probably don't, so make sure and read that one before continuing. You'll be surprised how well I've laid "traffic getting" out in its simplest form…
You can see it at https://tacoboutmarketing.com/blog/website-traffic-basics-and-why-you-need-the-basics
Now that you have all that knowledge in your head and you've decided HOW you want to drive traffic, then your next step is to decide WHERE that traffic will go.
For 99.1% of you that will be to a squeeze page… Sometimes called a lead capture page, landing page, etc., but this page has ONE job. To get people on to your email list.
Why?
Because once you have an email list you can email that list and send them to anything you want!
For example, let's say you're an affiliate marketer in the gardening niche. You just found a new product that you can be an affiliate for, and it looks like it will be a good seller.
You could do all kinds of stuff to get traffic to your affiliate link, but if you had an email list, you could bang out an email, send it to your list, and instantly make money.
One more example…
You have your own t-shirt line and you just thought up a killer design for your line. If you had a list of people who joined your list to get discounts you could bang out an email with your new design and a new discount code, and BOOM… again… you're instantly making money.
I've been racking my brain trying to think of a business model where driving traffic to a squeeze page shouldn't be THE #1 thing you drive traffic to.
Why not spend your time driving traffic to ONE thing instead of several different things?
Setup a squeeze page offering something that your target audience would love to have for free (discount code, special access to a Facebook group, a quick read PDF, etc.) and promote that heck out of that thing.
Then when you have something that could help those people and make you money, send out an email and you have instant traffic.
Now, if you're just getting started, I highly recommend you have ONE squeeze page, get it working, and actually get good at email marketing.
Then you can create additional squeeze pages to capture different people who weren't interested in your offer or who didn't see it.
Let me give you an example…
One of the niches that I'm in is the Internet marketing niche. There are so many topics in this niche. So many problems that I know how to solve. So, if I was just getting started, I would probably create a squeeze page that gives away a checklist of several different Internet marketing tactics.
Why?
Because I'm building a general list and want to get as many people interested in the topic as possible. So, a general overview of Internet marketing would be perfect to entice people to get on my list.
Now once I had that working well, I could create another free offer or discount offer or whatever for my niche and start driving traffic to it too.
I would then be driving traffic to that squeeze page too, but I'd still only be driving traffic to squeeze pages and emailing my lists to get them to anything else that makes me money.
Here are a few diagrams showing you the "getting started" version of having ONE squeeze page, and then the "as you grow" version showing multiple squeeze pages.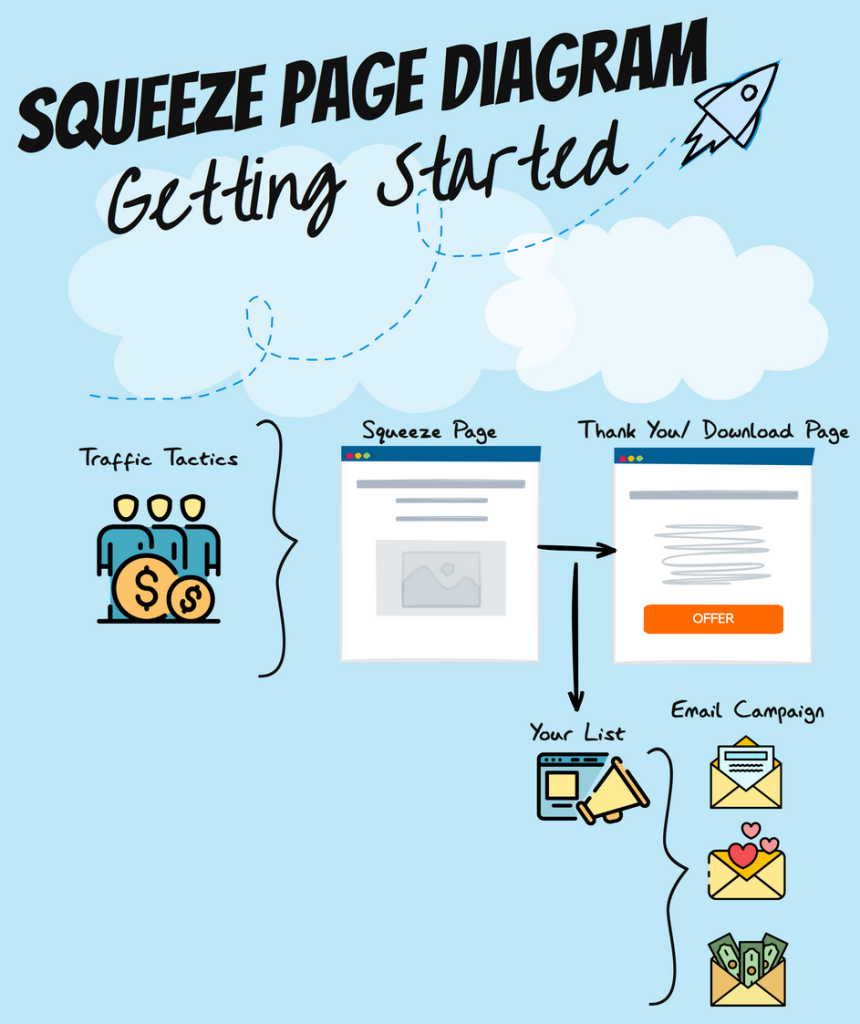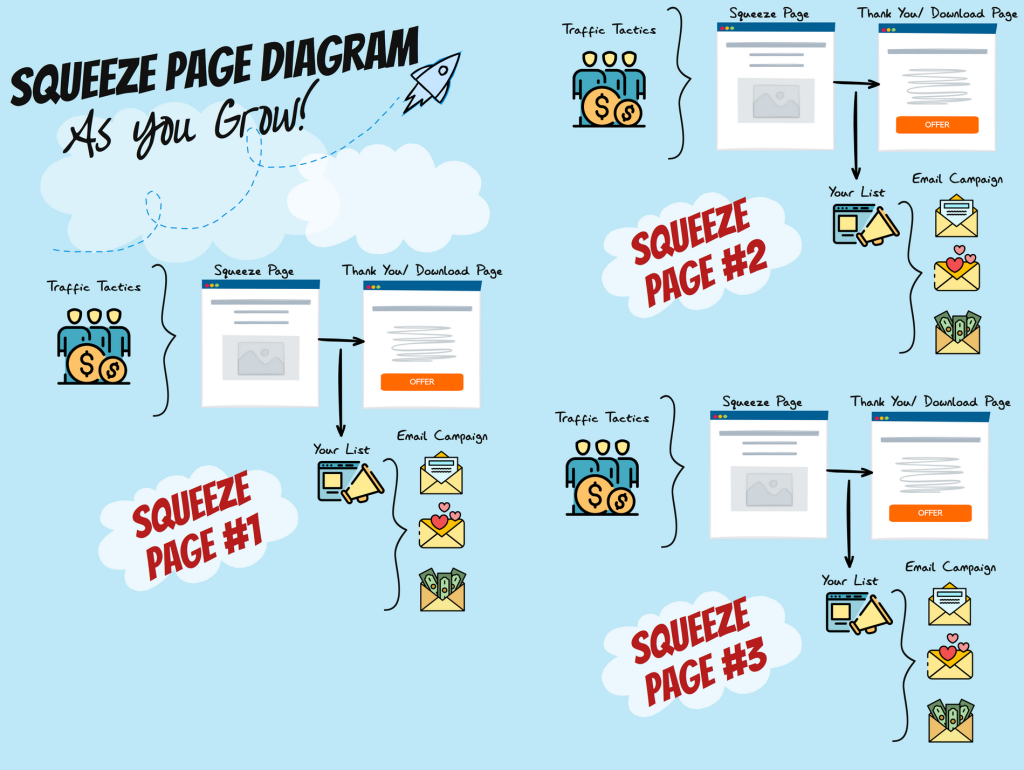 Now, my big huge mega point here is that you absolutely NEED a GOOD squeeze page, and you that's the ONLY place you need to be driving your traffic to. Get people on your list. Then you can use email marketing to get those people to anything you want…
Note: If you have multiple squeeze pages you'll split your "traffic driving time" between all of them.
Now, I do have an entire workshop that shows you how to create the perfect freebie to get people to get on your email list, how setup your own squeeze page and a few other pages you'll need, ways to make money from your list, and even how to get your first 1000 subscribers in 90 days! If you don't know how to start building your list then you need it!
You can see that workshop at https://learningim.com/list-building-kickstart-workshop-w
Okay, so hopefully this little tutorial has taken even more stress of running your business off your shoulders. When you have ONE thing to promote… squeeze page(s)… you can put all your focus on it and see much more success. You can use multiple traffic tactics, and in all save so much time!
Isn't this better than trying to individually promote all the different things in your online business to make you money? Wouldn't it be nice to be able to put things in front of your list multiple times (it is said it takes 7-10 times…or more… for people to see something before they buy it) so you can make the most money?
Yes!
And…
Yes!
So, take the advice I gave you here, go create a squeeze page, and put all of your traffic driving focus on it.
Now I have taught you all about website traffic in general, where to drive your traffic, and now it's time to start talking strategies! The next several posts in this series will all be tactics that you can use, so stay tuned.
Oh… One last thing… Above I stated that once you get people on your list you need to email them to get them in front of the things that make you money. That's called email marketing. What I have explained above is list building, and that's two separate things. I will circle back after I get through the traffic tutorials and start talking about email marketing, so don't worry… I'll cover all of that too ASAP! But if you want to learn it RIGHT NOW I've also got an entire workshop on email marketing that you can instantly begin learning from me with. You can see it at https://learningim.com/email-marketing-kickstart-workshop
Okay, so after reading all of this… Comments? Questions? Leave them below and I will answer you. Seriously… I will help you! 😉